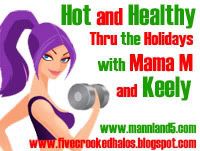 okay, so i have NOT been doing my hot and healthy challenge at all this past week. i mean, not at all! so i can't even really answer the questions that keely asked. oh well. this week WILL be better... i hope. ;-)
be sure to check out
keely
and
mama m's
blog to play along and link up or just read how the other ladies are doing....
did any of you do better than last week? or were you like me and totally slacked?
please share
okay.... now on to
two things i love... around my home
Christmas edition
my santa collection... i have a lot of santas! i couldn't just choose two... so....
my granny gave me this one... i'll have to ask her how old he is

even though this guy is a santa, he's not displayed with the others since he's in a sleigh with all the presents and the little elf. he's a decorative piece all on his own!
my granny gave me this guy too... along with the sleigh, gifts and elf

i forgot to take pictures of my sweet santas i bought in PA, they are precious... oh well

tell me two Christmas decorations you are lovin today!

xo,

kass